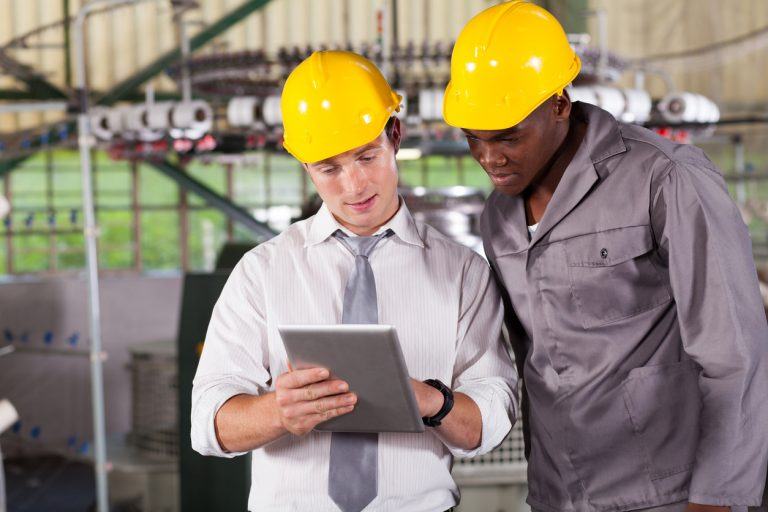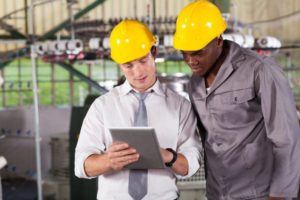 Introduction – What I hear from Manufacturers
In the first two parts of this blog series, we focused on getting ready to be successful with Salesforce, and driving adoption with a right-sized ERP integration, based on your CRM journey. Now it's time to have a little fun by making your CRM system really sing for your users.  Let's talk about setting up Salesforce to properly handle forecasting for Manufacturers!
I hear it all the time with new and current Manufacturing customers – Salesforce does forecasting…we want to use that to handle our forecasting.  This is true, it does opportunity forecasting very well.  But, is opportunity forecasting really the extent of what you are seeking?
I've learned throughout the years that forecasting means different things to different companies (and even to different departments within companies), so we need to start with the basics before we implement forecasting. Define what forecasting means to your organization, and make it easier to forecast than the Excel spreadsheets you use today.
How can we setup Salesforce to represent Forecasting for Manufacturers?
Traditional CRM methods of forecasting based on Opportunities at a given stage in the sales cycle doesn't really work for Manufacturers – in many, if not most cases, the customer is calling in an Order directly to Customer Service, rather than engaging in a full sales process with a sales person for each Order.  So, how do we appropriately forecast what's coming in if we don't have a sales cycle to track and report on?
The answer – focus on projecting Order volume by Account based on expectations or commitments from Customers/Distributors, and roll-up that data to get to a collective forecast.  We don't need to worry about creating an Opportunity in Salesforce for each Order (it's completely inefficient; users will quickly reject this idea), but rather focus on tracking your projected sales for each Customer/Distributor over a period of time (i.e. monthly).  Side note – I still think Opportunities have a purpose for Manufacturers, but companies that don't have a sales cycle for each sale need to consider when and how they use Opportunities.
Below is an example of how, with a little development work in Salesforce, you can start to truly understand your forecasts (i.e. projections) in relation to actual sales.  I mentioned in my last blog post that simply bringing Order data into Salesforce from your ERP system can unlock a lot of value, and this is absolutely true with forecasting.

Figure 1: Account Sales vs. Projections
There are a few areas to highlight from the top section of Figure 1:
CY Projections (Current Year) by month – pulls together all data from all Accounts with a Projection (i.e. January we are projecting $5,000 in Sales)
CY Budget by month – pulls together Sales team quotas/goals across each month
CY Actuals – ERP Order data rolled up across a collection of Accounts
PY Actuals (Previous Year) – ERP order data from the previous year for comparison
Variance – difference between CY Projections and CY Budget
DISCLAIMER: Don't think that this is the only way to setup a proper forecast in Salesforce, this is simply an example of ideas and concepts that tend to drive a lot of energy from End Users.  We traditionally would start by looking at your Spreadsheets or ERP Reports that are in use today.
What you'll notice on the bottom portion of Figure 1 is the editable ("Excel like") interface for updating projections for a specific Account.  If we don't make it as easy as Excel, then we will struggle with user adoption!
The Account projections vs. actuals is a great way to leverage Salesforce for forecasting, and below is another way of looking at the data from the perspective of an individual Sales person.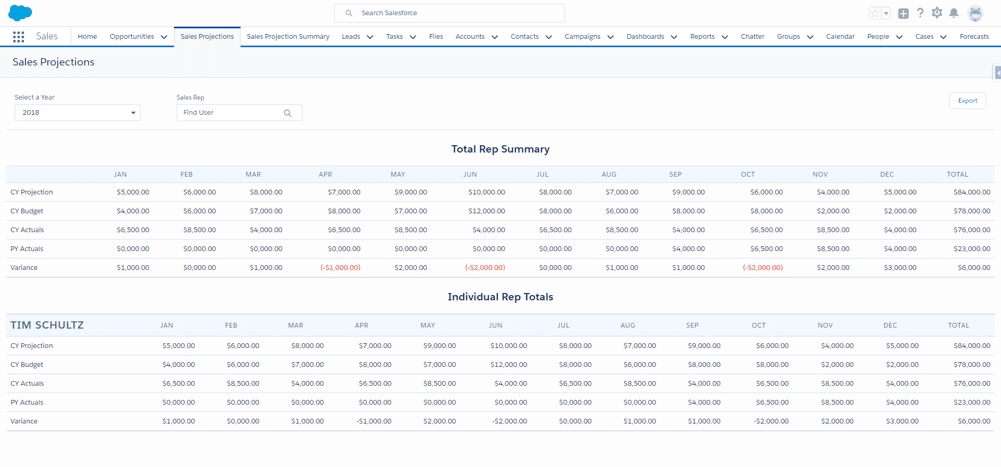 Figure 2: Sales Project by Sales Person
A similar look and feel as the Account breakdown, but in this case we are looking at a total roll-up of Sales Projections/Quota/Actuals across all Sales Reps (top), and an individual sales person breakdown (bottom).  You don't see it in these examples, but you can also break your projections down by Product Category if that is important to your business.
In summary, as you start to think about forecasting appropriately for your organization, don't make the mistake up getting hung up on having to use Opportunities as the only method of generating a forecast.  By pulling in ERP Order data, making it easy for Sales Reps to project future sales by Account, and configuring a specific forecast layout, we can further eliminate time consuming excel spreadsheet to provide a real-time look at the health of your business all from within Salesforce.
Happy CRM'ing!
Related blog posts:   Salesforce for Manufacturing
Part 2 – User Adoption & ERP Integration
More resources: