SMBHD Receives First Review on Clutch!
Here at SMBHD, we provide business-first technology solutions. Because of this, our diverse team of engineers strives to solve challenges and enhance our client's environments with strategic solutions. Since 2010, our team has focused on delivering the best through managed IT services, infrastructure consulting, Salesforce consulting, cybersecurity, and more.
Our team has the right mix of diverse expertise, compassion, and deep understanding of our client visions. We make dreams a reality, and now our clients have made one of ours come true!
We've received our first review on Clutch, a B2B ratings and reviews platform. Not only that, the verified review is a 5-star one! That means the client rated us highly on our quality of work, timeliness, scheduling, and more. 
Based in the heart of Washington, DC, Clutch is a B2B market research platform that connects businesses of all sizes with the right service providers to achieve their goals. The platform is invested in publishing in-depth client reviews, data-driven content, and vetted market leaders that businesses can access for free.
Check out our verified review below!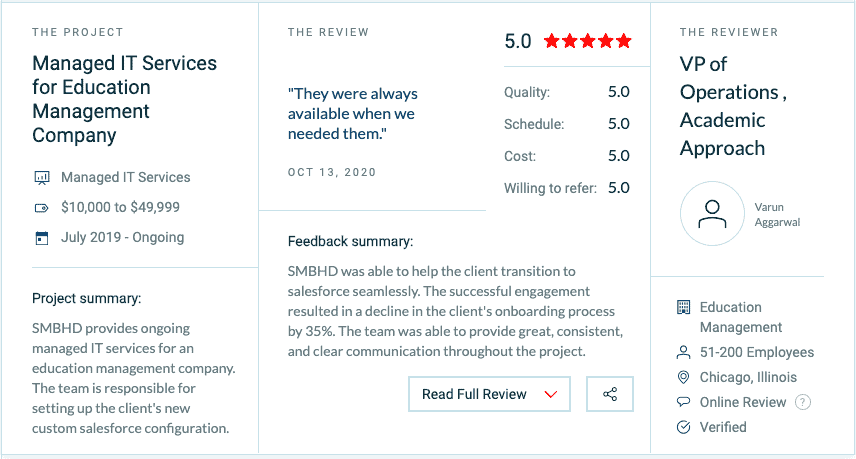 On an ongoing basis, SMBHD provides managed IT services for an education management company. The engagement started with our team helping them transfer from their in-house CRM to a Salesforce platform. 
Their primary focus was to improve customer satisfaction, so our team built a scalable system that would meet the company's growing needs. The upgrades ended up helping in more ways than one:
"We were able to smoothly transition to remote work because of the IT infrastructure they setup." –VP of Operations, Education Management Company
Throughout the project, we've aimed to provide transparent communication to meet their needs. Along with our availability and clear communication, the client praised us for our personalized service. 
It's our goal to meet our clients' needs through high-quality services and experiences. We're excited to use Clutch to our advantage through more feedback from our clients and the opportunity to gain clients from the platform. 
We're also pleased to announce that we're featured on Clutch's sister site, The Manifest. On The Manifest, users can look through company projects, detailed survey reports, and how-to guides to get more insight into B2B service providers like us!. 
Our 5-star review, which we greatly appreciate, as well as our listing on The Manifest have only strengthened our desire to provide clients with the best technology solutions. If you're in need of an innovative IT services provider, check us out here.