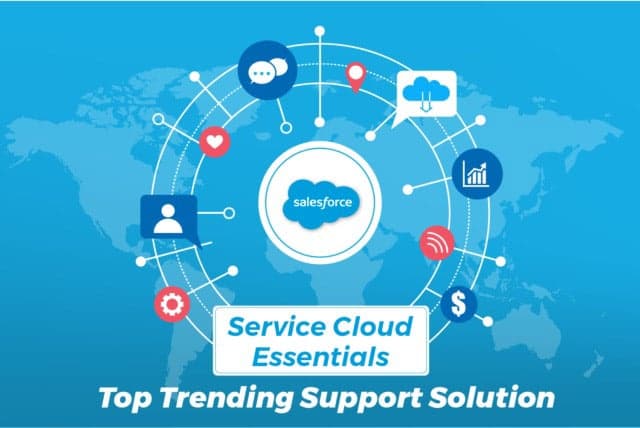 Essential Features of Salesforce Service Cloud
When many people think of Salesforce they may think of Sales Cloud. Salesforce also offers its users Service Cloud, which is a customer relationship management solution for customer service and customer support. There are so many great features Service Cloud offers and in this article, we'll touch on a handful.
Agent Workspace-Service Cloud
Agent Workspace-Service Cloud enables customer service agents to have something called an Omni-Channel console. It's basically a 360-degree view of the client. A support agent can have a complete view of the customer by gathering data from many departments into one area for your agents. You can solve cases faster by providing the customer with articles and other material to help them with their cases or questions.
Case Management
Another essential feature of Salesforce Service Cloud is the ability to route cases to the right agent. Not only is the case ticket routed to the right agent, but it's to the right agent from the right team, who has the  proper skillset. This allows faster response time and increases customer satisfaction. You can also see every interaction you've had with a customer in the past, in chronological order.
Knowledge Management
The Knowledge Management feature helps customers help themselves. Customers can find exactly what they're looking for from a centralized knowledge base of articles. This gives the agent the ability to provide the right answers to a customer each time.
Service Process Automation
With Service Process Automation, you can make strenuous service processes simple. You can customize screens for agents to help them in different stages of solving cases. Service Cloud makes it easy for the customer to connect with you and for you to connect with the customer. There are also self-service channels that customers can log into. An agent on your team can continue where a customer left off and resolve a case at any point in the process.
Omni-Channel Routing
Route cases and customer requests to the right agent for the case! The Omni-Channel Routing feature makes sure a customer's request is handled immediately. You can automatically route cases to the right agent, team, basked on skill set. You can also distribute work based on an agent's availability.
The points I have mentioned above are just to name a few. If you're looking for a full suite of customer service support features Salesforce Service Cloud is the way to go.
– Hussain Shaikh, Sr. Analyst